MX ritaoraoftheyear 2017
50 Best Releases
40
Lea Michele – Places
When it comes to Lea's second album, she's mostly switched the bops for ballads and this overall change in style is welcomed as 'Places' has a level of sophistication that 'Louder' didn't have. Nothing on this album tops the lead single "Love is Alive" for me because there's something really striking about the way her vocals sound simultaneously joyful and desperate. Another special moment is closer "Hey You" which is a very simple and honest dedication to her late boyfriend Cory Monteith. The way it reads as one half of a conversation is highly vulnerable and I commend Lea for including such a song on the album. Through the entire record, 'Places' is inspiring and beautiful.
highlight track: LOVE IS ALIVE
39
K Á R Y Y N – Quanta (series)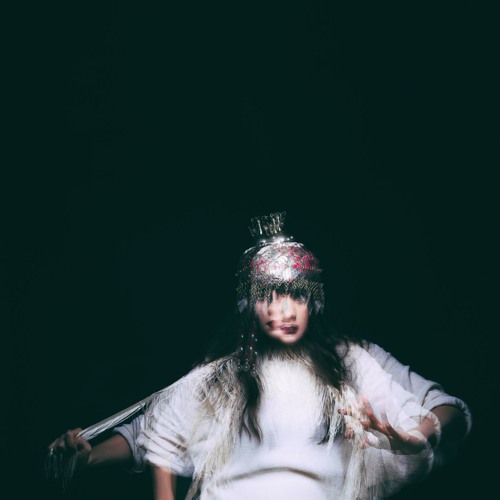 This series of singles by upcoming electronic composer K Á R Y Y N is without a doubt one of the most versatile projects I have heard all year. If you like Björk and FKA twigs, then say hello to your new favourite artist. The 'Quanta' series is often glitchy and unconventionally operatic. It's impressive how K Á R Y Y N's music manages to sound blissful yet loaded with layers upon layers of harsh sound. It feels peaceful in a way that running away feels peaceful. An array of emotions around us, but solace is found in escapism.
highlight track: UN-C2-SEE
38
Calvin Harris – Funk Wav Bounces, Vol. 1
Shock! Calvin Harris made an extremely cohesive full-length album. 'Funk Wav Bounces, Vol. 1' is a mixtape-era album, really – the Vol. 1 immediately highlights that this project isn't like its predecessors. This is plainly ten tracks of excellent R&B/hip-hop collaborations that was initially planned to be released as a singles series. Instead, Calvin opted to release it as a short full-length, and it was a great choice. This album was truly a summer soundtrack and I still stand by the 'E•MO•TION' comparisons that I made when I first heard it. It's practically designed to make you feel good. Listen to "Skrt On Me", or "Cash Out", or the smash hit singles "Slide" and "Feels", and then tell me you don't have a smile on your face. I won't believe you.
highlight track: HARD TO LOVE F/ JESSIE REYEZ
37
Demi Lovato – Tell Me You Love Me
Ex-Disney acts Miley Cyrus and Demi Lovato released their latest albums on the same day. Initially, I favoured Miley's album as I am a long-time fan of her work and "Malibu" was much more appealing to me as a lead single than "Sorry Not Sorry" which I initially considered to be shouty and dull. However, after listening to this project multiple times, it soon became clear that the album Demi had released here is nothing short of amazing. Songs like the wonderfully executed old-school 3/4 ballad "Cry Baby" and the dramatic gospel-lite title track deserve to be noticed. It's wonderfully sultry and sexy throughout the entire track-listing, and it just feels like she completely hit the nail on the head with what sound works better for her. And now she's got it, she can run with it.
highlight track: READY FOR YA
36
Kendrick Lamar – DAMN.
This album was massively overrated, and I don't feel as if I'm the only one who thinks so. 'DAMN.' really falls short compared to its predecessors, the incredible 'Good Kid, m.A.A.d City' and 'To Pimp A Butterfly', and I feel as if it's because 'DAMN.' is thematically lacking in comparison. Kendrick's previous two albums were fully fledged and conceptually well thought-out, and so my main issue with 'DAMN.' comes from the fact that I wasn't expecting Kendrick to put out a conventional album. That being said, 'DAMN.' being conventional does not mean that it isn't often excellent and some of his best songs ever. Kendrick has never sounded so masterfully effortless as he does on "ELEMENT." (a surprising James Blake collab) and no one can deny the fact that "HUMBLE." and "DNA." are complete bangers. Also, a quick shout-out to the moody soulful "PRIDE." which is quite touching. Yeah, this is very good, but I wouldn't expect anything less from a genius.
highlight track: ELEMENT.